Joint Meeting with Sierra Club in May
On May 21, 2019 at 7 PM at 3131 Morris Ave in Knoxville. Erin Gill, Sustainability Director, City of Knoxville, will be making a presentation.
For over a decade, the City of Knoxville has worked to make Knoxville a greener, more sustainable city – one where the economy, environment, and community can thrive today and in the future. Erin Gill [...] will discuss the City's past and current sustainability efforts, as well as share perspective about new, longer-term City sustainability goals. Her presentation will include an overview of the City's greenhouse gas emissions inventory and highlight how emissions have changed over time.
Ms. Gill was appointed to the Office of Sustainability by Mayor Madeline Rogero in 2013. She serves on the 2019 TVA Integrated Resource Plan (IRP) Working Group and is a former co-chair of the Southeast Sustainability Directors Network. Join her for a discussion about how Knoxville emerged as a regional and national sustainability leader and how the community can deepen its progress toward a dramatically lower-carbon future.
Successful Initial Meeting with Rep. Tim Burchett (TN-02)
See Chet's message for further details.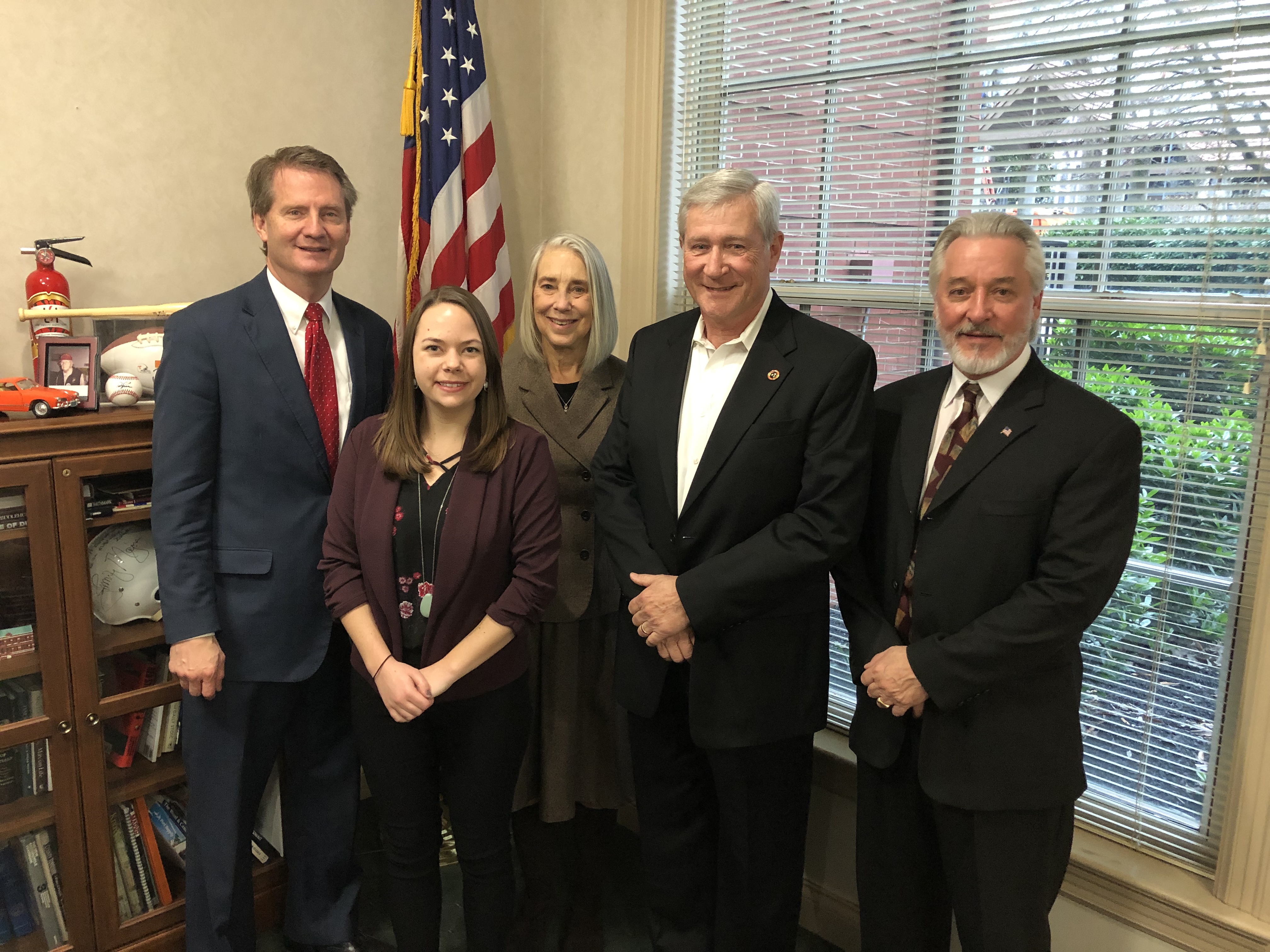 About Our Chapter
We are a chapter of the Citizens' Climate Lobby (CCL) established to focus on the impacts of climate change on the Greater Knoxville region, influences that touch each of us individually, effects that impact us collectively as a community, and shocks that range to the extents of the Earth. If you are interested in our beautiful East Tennessee environment, you are invited to attend our open meetings. You will be greeted respectfully independent of your political leanings, whether you are Republican, Democrat or Independent; if you believe that climate change is real or if you have doubts about its validity; whether you have abundant funds or have less; whether you are younger or older; all are welcome to the Greater Knoxville Citizens' Climate Lobby meetings.
About CCL
Citizens' Climate Lobby is a nonprofit, nonpartisan, grassroots advocacy organization empowering people to experience breakthroughs exercising their personal and political power. Our chapter is just one of hundreds of chapters across the world working to create the political will for a livable world.
We are laser-focused on a specific piece of legislation and a proven strategy to gain its passage. We are working for the passage of Carbon Fee and Dividend, the climate change solution economists and climate scientists alike say is the "best first-step" to preventing the worst impacts of a warming world.
Our market-based Carbon Fee and Dividend policy will drastically reduce emissions, create jobs, and support small businesses and families — all without growing government.
We've seen firsthand how passionate citizens who are well-trained, organized by district and with a good system of support can more than influence the political process.
April 16, 2019
See the agenda for details.
March 19, 2019
See the agenda for details.
February 19, 2019
See the agenda for details.
January 15, 2019
See the agenda for details.
December 18, 2018
See the agenda for details.
Prof. Huisingh generously shared his PowerPoint presentation with us. It's a big file, but worth downloading and viewing. A PowerPoint application or free viewer app ( ) will be needed to see the videos and animations.
November 20, 2018
See the agenda for details.
June 19, 2018
See the agenda for details.
May 15, 2018
See the agenda for details.
April 17, 2018
See the agenda for details.
March 20, 2018
See the agenda for details.
February 20, 2018
See the agenda for details.
January 18, 2018
See the agenda for details.
November 20, 2017
October 16, 2017
September 18, 2017
The Greater Knoxville Chapter of the Citizens' Climate Lobby September meeting was held on Monday, September 18, 6:30 – 7:45 PM at the Bearden Public Library, 100 Golfclub Rd, Knoxville TN. The agenda was posted in the September Newsletter, and minutes were posted in the October Newsletter.
Climate Advocate Training Workshop
August 12, 2017
RSVP at EventBrite. All you need is an e-mail address.
Come to a free Climate Advocacy Training led by CCL. Trainers from CCL will teach techniques to use in lobbying Congress on climate change and building public political will for climate action.
Our consistently respectful, non-partisan approach to climate education is designed to create a broad, sustainable foundation for climate action across all geographic regions and political inclinations. By building upon shared values rather than partisan divides, and empowering our supporters to work in keeping with the concerns of their local communities, we work towards the adoption of fair, effective, and sustainable climate change solutions.
All are welcome to attend, and attendance is not a commitment. The location is on the University of Tennessee Agricultural Campus, 2500 EJ Chapman Drive, Biosystems Engineering and Soil Sciences Bldg, Room 268. There is free Parking in Lot 66. Here is a local map that you can view on your device, or print in advance to help you find your way once on campus: [UTK Institutue of Agriculture Map]
Meeting with Rep. Tim Burchett (TN-02)
2019-Feb-20 Climate Change Action Forum 2019-Feb-09